groupware and much, much more
The most advanced solution in communication and collaboration – a platform for EVERYONE!
exchange your exchange
Digital sovereignty: Decide for yourself whether on premise or in the cloud – with 100% control over your data!
Complete communication and collaboration solution
Digital, open source communication – in real-time at enterprise level!
grommunio in IT-Administrator 05/22
"Migration from Exchange to grommunio"
Current job offers
IT System Engineer
Software Developer
learn more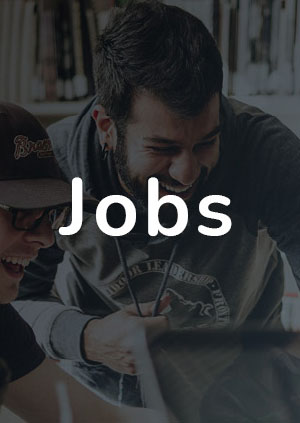 Digital communication and collaboration on enterprise level
grommunio efficiently summarizes all requirements of modern, digital communication and collaboration. This includes device and operating system independent management of sensitive data such as e-mail, contacts, calendar, chat, video conferencing, file sharing and much more – in real time.
With open source technology based on Linux, grommunio is scalable and meets the highest security requirements. Thanks to its advanced architecture, grommunio can be integrated into existing systems without great effort.
Emails, contacts, calendars in one platform
Increase your efficiency by managing emails, contacts, calendars, tasks and much more with just one platform.
With integrated enterprise-grade Active Sync, your data is available on all devices in real time.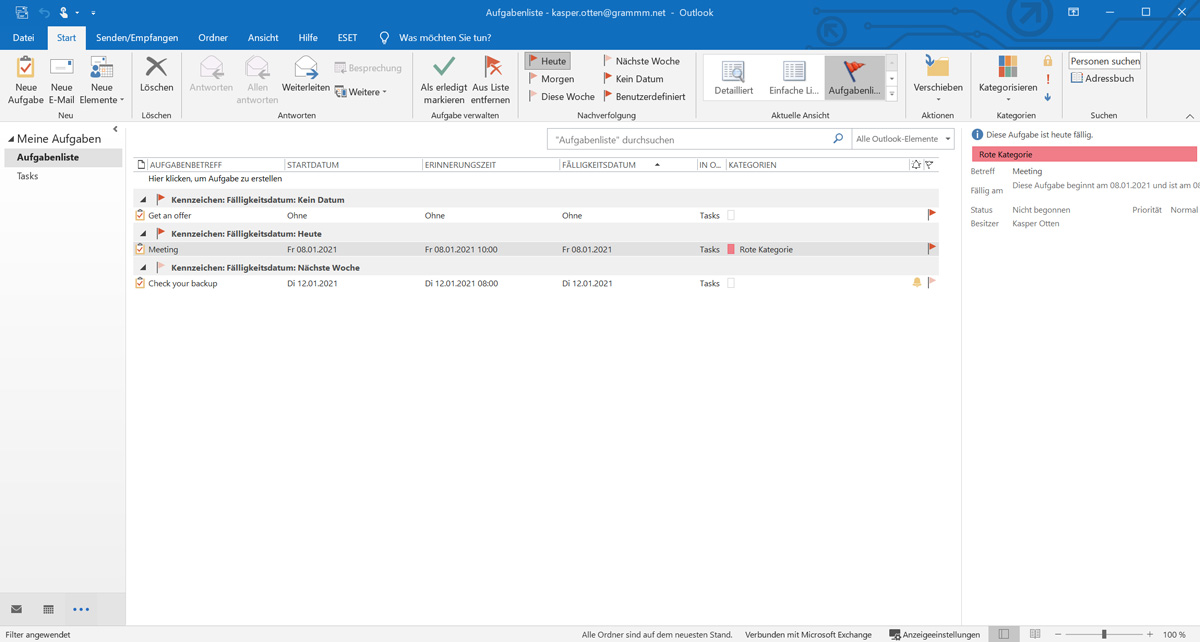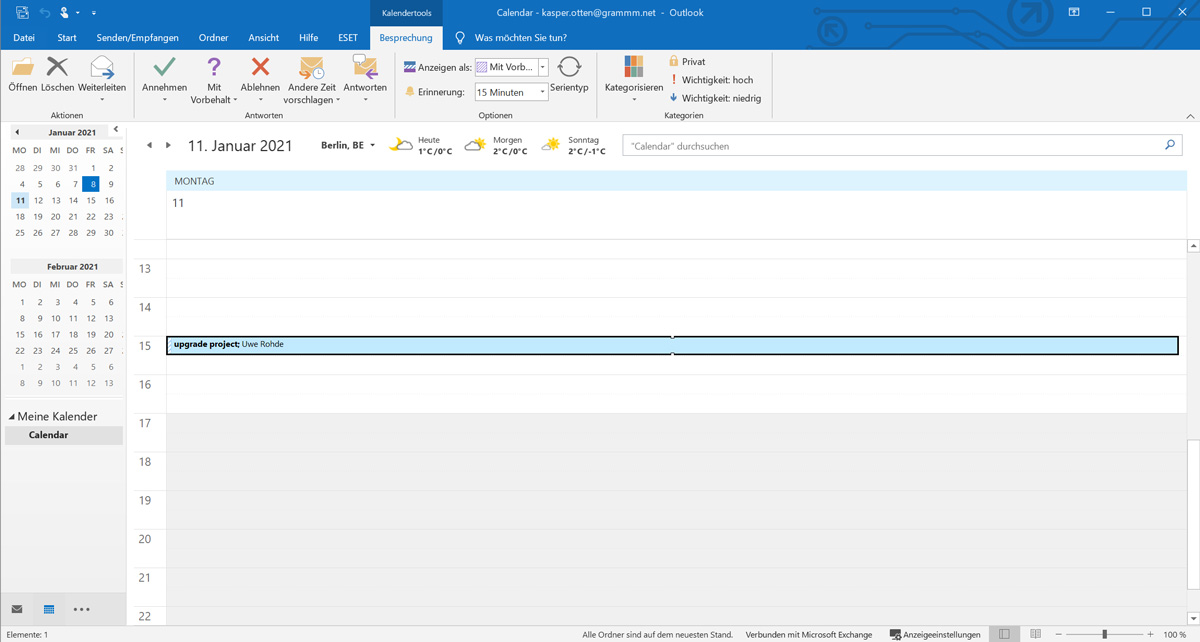 Work efficiently and increase productivity
Invite directly from your calendar to online conferences with grommunio Meet, share files of all kinds in grommunio files and talk to your employees at the same time via grommunio chat.
Organize projects with shared folders and create schedules to see at a glance when your colleagues have time.
Enterprise-grade security
Secure communication and collaboration for your highest demands. You can sit back and relax knowing that your confidential information is protected with enterprise security.
Manage all your devices with grommunio Mobile Device Management. For example, if a smartphone is lost or a colleague leaves the company, you can remove all data and disable all access at any time.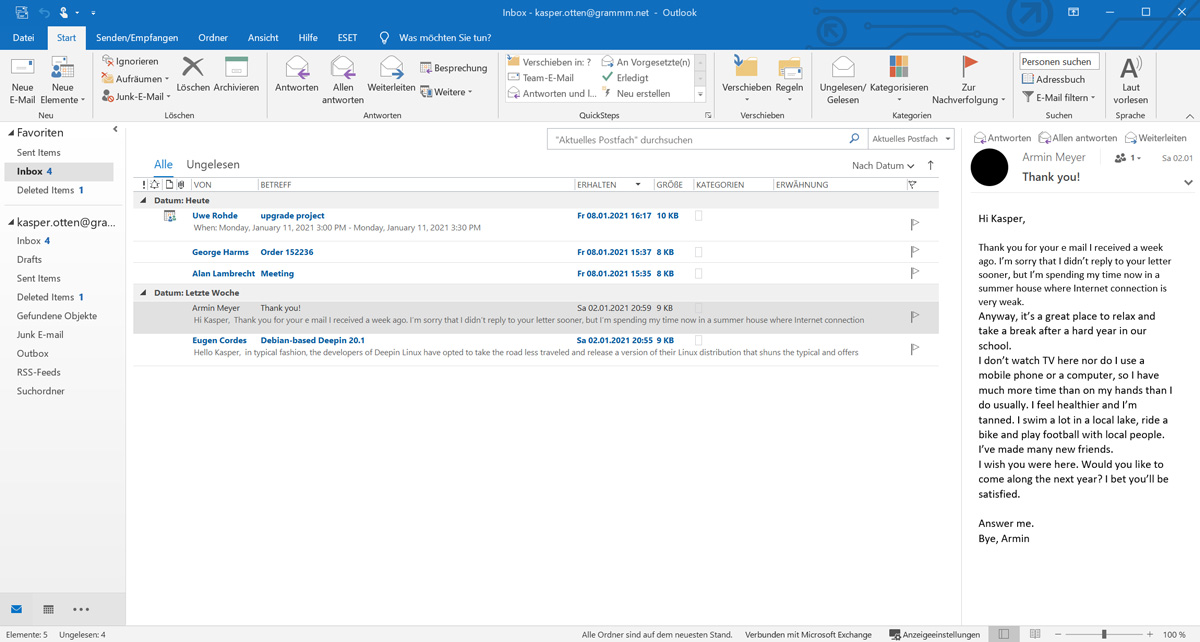 First class compatibility
The appliance can be integrated into your existing environment at any time and can be used immediately with the following clients, among others.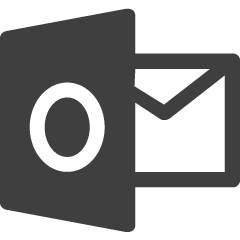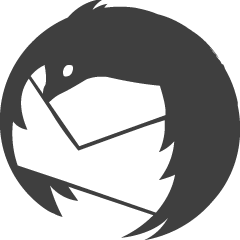 This is what distinguishes grommunio

The appliance offers a wide range of interfaces … for optimal integration in a variety of environments.

As the first open source solution – with a fully functional implementation of Outlook Anywhere (RPC-over-HTTP) and MAPI-over-HTTP, grommunio is the alternative to proprietary backends for native interoperability with Microsoft Outlook.

With its efficient and optimized design, it even outperforms its proprietary counterparts in most areas.

With the Linux platform as the basis, and the associated scalability and manageability, grommunio convinces with its large variety of implementation scenarios in your data center.
Features
Your entire communication in just one platform!
Email
With grommunio you send your mails as usual via Outlook, iOS or Android devices, as well as via grommunio Web.
Learn more
Contacts
Continue to manage your contacts on all devices with the usual apps or with grommunio Web.
Learn more
Calendar
Edit entries however is most convenient for you. grommunio syncs calendars on all devices simultaneously.
Learn more
Tasks
Tasks can easily continue to be managed in your Outlook, on their mobile devices or in grommunio Web.
Learn more
Meet
Video conferences with grommunio Meet web-based or via app: high-performance, scalable, end-point secured and user-friendly.
Learn more
Chat
Enterprise chat systems for internal and external communication on a web and app basis.
Learn more
Files
grommunio Files offers you unrestricted and secure access to all your shared documents and data from the office or on the go.
Learn more
Office
The Office suite lets you create and edit all documents GDPR compliant in addition to our collaboration features.
Learn more
Mobile Device Management
With Mobile Device Management, you can protect your data if a mobile device is lost. Stored data can be deleted by external access.
Learn more
Architecture
The appliance has a wide range of interfaces with optimal integration in a large number of applications and environments.
Learn more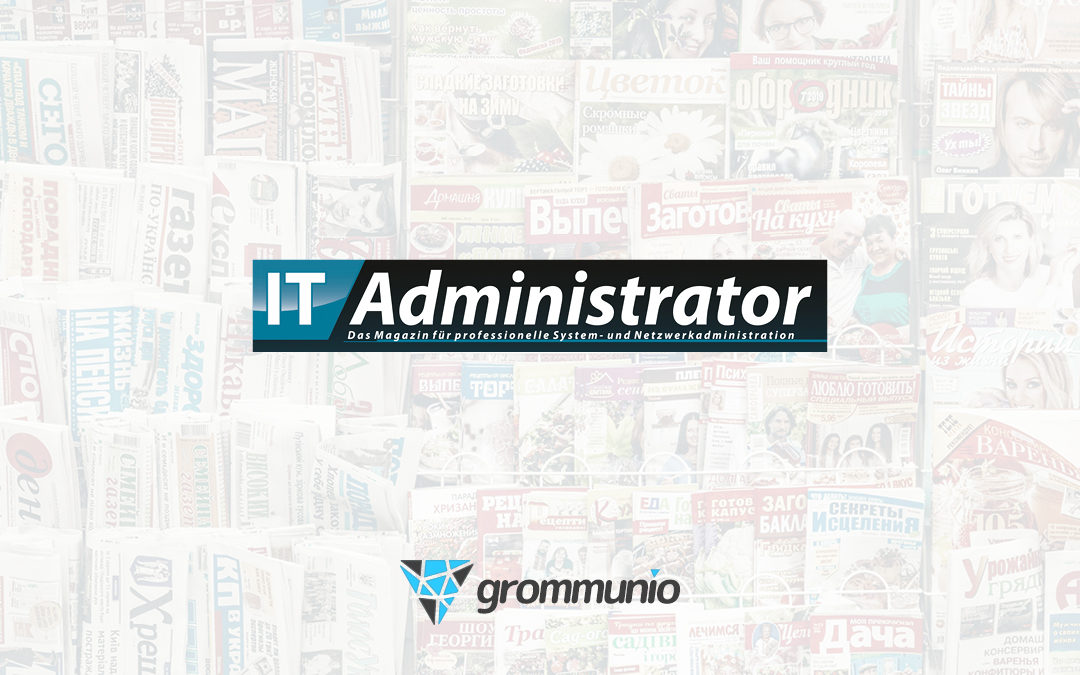 In issue 05/22 of IT Administrator, the migration from Exchange to grommunio is well described. The topic of data protection is on everyone's lips. Many schools, universities, authorities and companies are facing this problem to which there is now a solution. grommunio implements the Microsoft protocols RPC over HTTP and MAPI over HTTP and enables the seamless use of Outlook. Data protection compliant working with Outlook or the easy migration to the versatile grommunio suite with full feature set. Mail, calendar, video conferencing, chat, MDM, file sharing plus more features and now new grommunio Office. IT Administrator 05/22 - Migration from Exchange to grommunioRead the article as PDF here (text in German) With our free community version, available for download here, you have the...
read more
Read all the latest news and blog posts.
grommunio Partner Program
grommunio focuses on the indirect sales channel. Sales partners and distributors benefit from this. As a sales partner, you too can benefit from these growth opportunities and the excellent opportunities of the partner program.