As of last week the Linux-Magazine 02/22 is available, which has grommunio not only on the cover, but also on the DVD and in an article by Markus Feilner with eight (!) pages.
grommunio brings email, contacts, appointments/calendar, file synchronization, task management, video conferencing, chat, mobile device management and management features to enterprise level – from high availability to dynamic scaling to detailed monitoring, all in open source.
Adapted DVD version in Linux-Magazine
The article comprehensively describes the background, architecture and concepts of grommunio and why they are better suited to demonstrably comply with applicable regulations such as the GDPR than other products. The booklet DVD also contains a newer version than the one described in the article.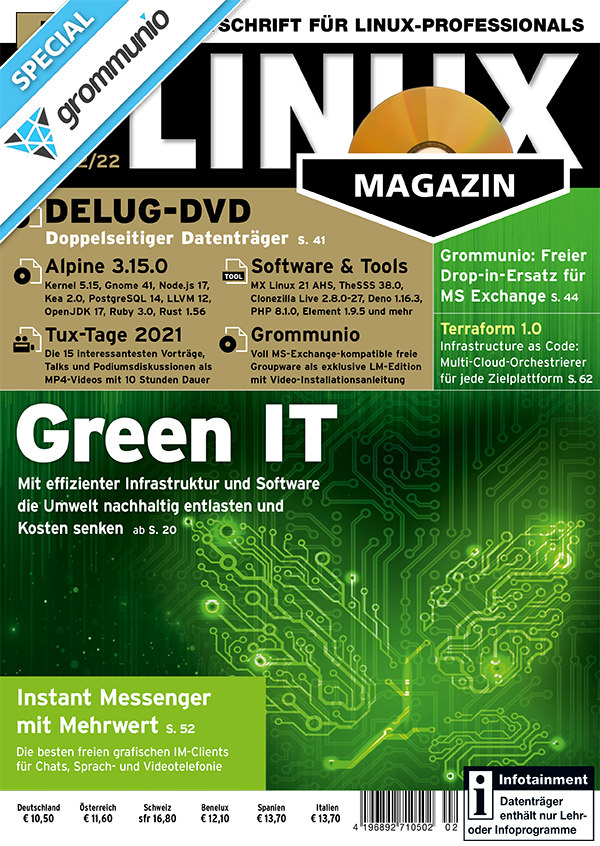 Update 24 February:
We have received permission to publish the article as a PDF.
read the full Article. (text in German)

The grommunio version, specially adapted for Linux-Magazine, is available as an ISO file on the data carrier, is easy to install and is technically based on the recently published December edition – here are the release notes.
New in grommunio 2021.08.2
Mobile apps in the Playstore, Stretched Cluster installations, OpenID, OP_MOVE, Public Stores import, and much more.
For users who want to migrate an existing Exchange server, grommunio provides a script with instructions, the Powershell migration script for version 2021.08.2 (which is on the DVD) mentioned in the article can be found here.
Roadmap: grommunio 2021.08.3 coming in early February
On the roadmap for the next version of grommunio are various security features such as antivirus integration, certifications, grommunio 2021.08.3 is scheduled for release in February.
The new version will also integrate SSO technologies for easy logins and credential management in enterprise networks. In addition, the start-up is currently working on further add-ons for Outlook and mobile clients.
Also on the roadmap for next year: The extended implementation of the EWS protocol. Thus, grommunio will close the circle of supported protocols, so that any compatible ERP, CRM or even meeting solution can be integrated already in the backend, including SAP, Salesforce or Unite.
More details about grommunio can be found in this annual review.